Abstract
The aim of this project is to automate sound system in classrooms by which small notice announcements, emergency intimation to student or faculty of the classroom can be communicated from the control room.
In this Classroom Automation project, we are using an android app by which the user can select the classroom or group multiple classrooms to announce script, with this system human effort and time is reduced.
Announcement from control room is captured with mic and feeded into the amplified box, from that amplifier box sound signal is sent into relay switching box, from relay switching box sound is switched into the respective classroom based on user inputs from android app.
Block Diagram: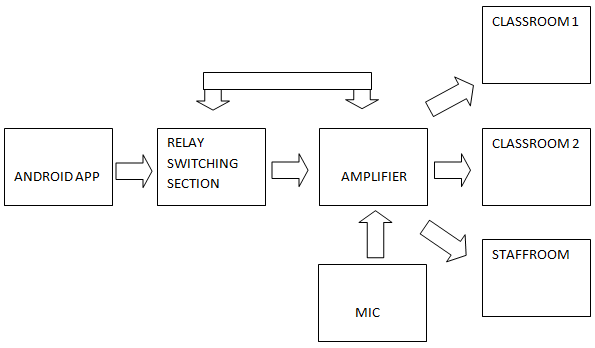 Technical Requirements:
ANDROID APP
RELAY SWITCHING SECTION
AMPLIFIER
MIC
CLASSROOM 1
CLASSROOM 2
STAFFROOM