ACKNOWLEDGEMENT
We truly resolve to acknowledge the opportunity provided to us by the Institution, respected teachers, and family.
We intend to show our gratitude for all the support and guidance we got from our teachers, classmates, and all individuals who helped us at any point in this project.
This whole process we went through in bringing out this project was a great source of knowledge and valuable experience, which would for sure, come in handy for us in any future we will have to bring out another such project.
This has been a period of time over which we learned about technological and logical aspects of the field where we are going to land soon, we feel indebted for being so well equipped with all the knowledge and experience we gathered here.
Introduction 
Surface details:
Our project entitled "Library Management System" is designed to bring ease to both the library staff and the students seeking for issuing books.
It is designed with features that reduce the effort for the staff and increase convenience for the readers, Being a Web Based application, it is easy to Run and adapt in almost all conventional environments.
Any moderate user can easily learn and operate this system 
Scope:
This System can work fine for all most every library, where desired,
This cuts off a lot of human resources required to maintain the library, hence saving money too.
It has fluid UI and UX which can be learned and adapted quite quickly by any category of user.
This system extends its use outside the library with is easy to adapt interfaces for readers
Objective
The Objective of this System is to reduce effort and increase convenience in the management of libraries.
It allows users to hold a book for 24 hours so that no one can get it issued before they reach the library.
It will save time in the calculation of fine
Students will always stay notified about generated fines via their online accounts which they can access from anywhere.
It will make it easier to search for books.
It will help keep track of bookholders.
It will keep Libraries less crowded.
It will save money as fewer human resources will be required.
About the existing system
Currently, libraries need to maintain bulky files to record books and the individuals occupying them.
Fines are calculated manually by going through bundles of records.
Need to manually check for availability of books in the library
The process of issuing a book involves designated officials making entries in registers manually, which takes plenty of time.
Disadvantages of the Present System:
The current system is full of flaws:
A lot of Human Resources is required to maintain such a system much cost and hard to operate and maintain.
A lot of money is wasted in maintaining these records
Paper is wasted
A lot of time is consumed in the process of searching a book, making its entry, and retrieving any previous record.
Availability of books cannot be assured without physically searching the library
People need to travel to the library to know whether a book is available. 
Proposed System
The System we developed comes with all solutions to the drawback of the previous system.
Some of them are listed below:
Search books from anywhere.
Put the book on hold for 24 hours so that no one else can take it before you
Release the book if you don't want to hold it anymore
A panel for users to check their hold and issued books
Easy login and registration System.
One-click book Issue
Easily return book
List of trending books.
Feasibility Study
This document enables proper decisions to be made over the progress of the project, by studying various aspects of feasibility associated with it
Such are listed below:
Cost: as it is a web-based project it needs to be hosted over the server to be accessed by users, but the efficiency which comes with the product shadows this cost, as it reduces money being spent on human resources
Time: The time invested in this project is also justifiable as keeping the yield into consideration.
Technical: All technological tools used to make this project are conventional easy-to-use ones, and they are easy to maintain too.
This project can be easily upgraded and maintained as it is designed in a standard manner and is easy to understand. 
Hardware and software information 
HARDWARE CONFIGURATION
System: Multimedia PC
Processor:  Pentium 4 or above
Memory: 512MB RAM or above
Hard Disk:  500GB
Keyboard: 104 standards
Monitor: SVGA          
SOFTWARE CONFIGURATION
Front end: HTML, CSS, JavaScript
Operating System: Windows/Linux
Design Phase:
ER Diagram:
Context Level Diagram:
First Level Data Flow Diagram:
Second Level Data Flow Diagram for User: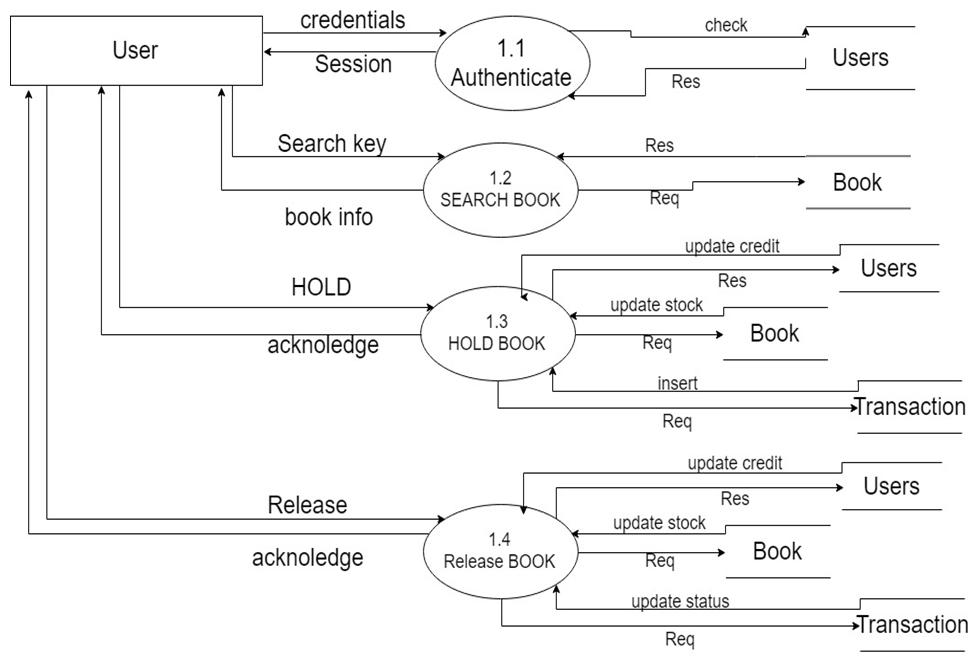 Second Level Data Flow Diagram for Admin:
DATA DICTIONARY 
Users Table:
| | | | | |
| --- | --- | --- | --- | --- |
| Name | Type | Field-Size | Description | Example |
| Uid | INT | 100 | Unique ID for Users | 0 |
| name | VARCHAR | 100 | Name of user | XYZ |
| password | varchar | 100 | Password | XYZ |
| credit | INT | 100 | No.of books currently Occupied | 0-5 |
| U_type | varchar | 100 | Reader/admin | admin |
| Pic | varchar | 100 | photograph | Xyx.jpg |
| Email | Varchar | 100 | Email for identification | |
Books Table:
| | | | | |
| --- | --- | --- | --- | --- |
| Name | Type | Field-Size | Description | Example |
| bookid | INT | 100 | Unique id of book | 1 |
| bname | Varchar | 100 | Name of book | Life of pie |
| stock | INT | 100 | Available copies | 66 |
| Author | Varchar | 100 | Name of author | ABC |
| Publication | Varchar | 100 | Publication name | BBC |
| Edition | Varchar | 100 | Year of publication | 2013 |
| Price | Int | 100 | Price of the book | 2000 |
 Transactions Table:
| | | | | |
| --- | --- | --- | --- | --- |
| Name | Type | Field-Size | Description | Example |
| Tid | INT | 100 | Unique id of the transaction | 1 |
| bid | INT | 100 | The ID of User Involved | 1 |
| uid | INT | 100 | The ID of Book Involved | 1 |
| Time | timestamp | 100 | Time of transaction | 2018-07-02 19:55:11 |
| Returned | INT | 100 | State(returned or not) | 0 |
| T_type | Varchar | 100 | Hold or issue | issued |
Download the complete project on College Library Management System using SQL and PHP.