The main objective of Web Based Recruitment Process System Project in Java is to help the HR Personnel help in the process of recruiting new candidates to the company. This web based corporate recruitment process system will primarily focus on the posting and management of job vacancies. When the Job Provider post job openings in this system the WRMS will search the total system and select the all job seekers Mail Id's, their qualifications and match with the requirement of the organization.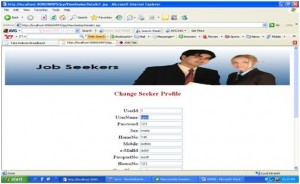 Web Based Recruitment Process System Features:
This system is designed by keeping in mind three persons Job seeker, Interviewer and HR manager.

System allows Job seekers to register their details like experience and specific skills with the system and then on the other hand it allows Job Providers to post their requirements with the system

The WRMS will automatically send mails to all Job Seekers; their technical qualification is matched with the requirement.

Conducting the online test for screened candidates, Sending emails notification to all Job Seekers and also offering the facility to view results.

Interviewer has option to view his mailbox and find out the mails with their resumes and screens the resumes, sent the final list to HR manager.

 Interviewer sends the mail to the Job seeker with information of conducting online test with a date and time.

Job seeker has a facilities to search and view jobs, view his personal inbox, if he is a new user he can post his resume and can change his details.

HR manager main duty is that he will go through the queries and will give the answers to queries.

HR manager regularly check the Job Providers details and also he will introduce the new Job Provider with the system.

WRMS send the regular mails to the Job seeker with a details of openings.