Global Communication java project is developed for N.E.C. Main idea for developing this application is to reduce communication problem between companies by developing a online conference application. This application will be a better choice to replace existing telephone communication through web by including new features is called Global Communication. 
Why to develop Global Communication Java Project.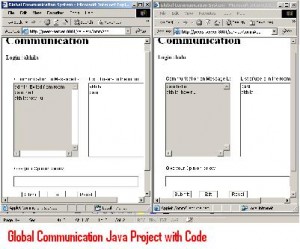 As there is lot of improvement in technology,there is lot of scope for developing applications in business field which can reduce cost as well as time. This b.tech final year project is experiment to reduce that gap in business field. Normally companies follow manual procedures for transaction and dealings. But this application will be a good option for companies to communicate through online. This application will improve business standards of a company.
In present market each and every business are having branches all over the country so this application will help to communicate with different branches for faster services through online conferences.
PRESENT SYSTEM:
Conferences will take part a vital role for any of the national wide company. A company like National Engineering Corporation it takes part an important role. Because the company is having branches through out India, they need to conduct conferences between their employees and to conduct board of directors meeting among their directors, general managers. 
Normally conferences will be conducted in some place owned by company or in some conference hall. The person, who has to participate in the conference, has to travel all the way to participate in the conference. So it will be very risky to travel for the persons, and it is risky work for the company also to provide all the felicities to persons. Now a day wherever you see so many strikes are going. In that case to participate in any important conference or to conduct any conference will be very tedious. All this may lead to loss of company and time taking matters. So here the company is decided to develop their conferences on the net itself. 
PROPOSED SYSTEM 
The proposed system is to maintain the conferences, live meetings, general body meetings on the net. This system is to develop in a client/server environment. It aims to do the following. 
Grouping: Grouping of selected users

 Support of multi conference

 By selecting the single user from the list, Talk can be  achieved
 By selecting all the users in the list, Chat can be achieved.
download Project Report, project Code and  paper presentation  of  CSE Global Communication java project .