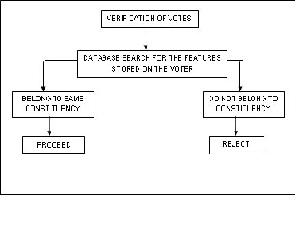 Biometric seminar topic explains about the new alternative method of a voting system which can reduce illegal voting.
This paper will provide information like an introduction to biometric voting, design specifications and components, Fingerprint scanner, Formation of network and advantages of this new technology.
 Conducting elections is always a challenging task for any county which includes lot of security concerns.
Main reasons for rigging in elections is due to lack of accurate voting system, presently ballet voting and electronic voting systems are widely used voting methods in the world but these systems are not accurate, as crores are invested in elections technology is not used to get a genuine result.
This seminar topic aims to provide a new biometric voting system concept which can avoid flaws included in the voting method, this method can increase speed and accuracy in the voting process.
In voting system organization should provide security on a single vote for single person method but due to this existing system, it is not possible so the biometric voting system will take thumb impressions for voting which will be unique for every person. So there will be no chances of rigging.