There is single module in Web Grabber Project in java called "Admin Module"
Web Grabber Functional Requirements:
These are the functional descriptive activities carried out by administrator.
The Purpose of this Tool is to Grab the complete Website and Download and View it in from the hard disk without intervention of Inter Net.

Web Grabber Dramatically increases the productivity by providing powerful, fully-automated Web Data extraction. Users can rapidly find, capture, and store any information from the website.

Web Grabber collects both static and dynamic contents from the web pages, and its fully-customizable, to ensure fast and simple extraction from any target website.

Web Grabber empowers you to extract web content more efficiently and accurately than ever before. You instantly capture and store the content you need quiet quickly, easily and error-free.

Web Grabber can extract data from nearly any website including e-commerce sites, member list directories, search engines and others. This powerful solution has been utilized to successfully collect content from sites such has Yahoo, Amazon, Google and Monster.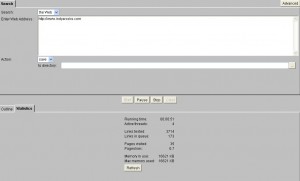 The Administrator can do the following actions:
Admin Actions
Enter into the site

Enter the URL

Identifies the Site

Identifies the Layers

Start Download

Saves the Downloaded site
Watch this video for full project design details 
Contents in Project Report:
Introduction…………………………………………………………………………………………………………………… 1
1.1   Purpose………………………………………………………………………………………………………………… 1
1.2   Project Scope………………………………………………………………………………………………………… 1 
2.   Software and Hardware requirements………………………………………………………………………. 3
2.1   Software Requirement specification…………………………………………………………………………. 3
2.2   Hardware Requirement specification………………………………………………………………………… 3 
3.   Literature Survey……………………………………………………………………………………………………… 4
3.1   Technical Feasibility………………………………………………………………………………………………. 4
3.2   Operational Feasibility……………………………………………………………………………………………. 4
3.3   Economic Feasibility……………………………………………………………………………………………… 5
3.4   Introduction To Crawlers………………………………………………………………………………………… 6 
4.Software Requirement Analysis…………………………………………………………………………………. 10
4.1   Functional Requirements………………………………………………………………………………………. 10 
5.   Software Design……………………………………………………………………………………………………… 12
5.1   DataFlowDiagram………………………………………………………………………………………………… 12
5.2   UML Diagrams……………………………………………………………………………………………………. 14
 6… Testing……………………………………………………………………………………………………………………. 26
6.1   Testing……………………………………………………………………………………………………………….. 26
6.2   Testing Process……………………………………………………………………………………………………. 29
6.3   Testing Methodologies………………………………………………………………………………………….. 29
6.4   Levels Of Testing………………………………………………………………………………………………… 30
6.5   STLC…………………………………………………………………………………………………………………. 31
6.6       Types of Testing