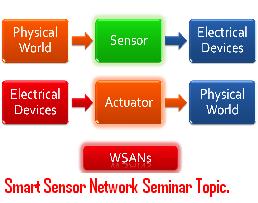 Smart sensor seminar topic explains about how sensors can be used in various fields like infrastructure and logistics to control green house gas emissions and environmental pollution. This paper details on sensor technology for green growth, design principles, fields of application, smart grids and energy control systems.
 Sensor and its applications can play important role in environmental changes.
In present scenario fields like power systems, infrastructure development and industrial process are causing serious environmental problems in order to control these effects sensors applications will play important role. This paper will provide detail view on sensor usage.
As technology had become part of our daily life using sensor application will not be a tough task for implementation. As sensors are useful in reducing green house gas emissions it has created scope for development new applications which can be used in different fields. 
As sensor technology is still in developing stage. Sensors usage positive effects had created government organizations to concentrate on promoting sensor technology research for making it practical.
download Smart Sensor Network Seminar Topic , paper presentation.