Introduction:
In today's world, everything can be controlled and accessed without the physical presence of a person-this is the requisite in today's modern world. The project "Online medical portal a Java Project" is implemented to fulfill this particular requisite. This project follows a modular approach. In this medical portal, the administration module updates the number of patients and doctors in the portal.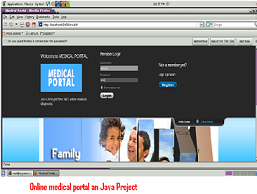 The admin module can also add doctors along with the details like qualification and specialization on the system. He can also view the details of doctors and patients and has full control over the medical portal. All patients are given a unique id which has his complete details and this is also fed into the system software.
Description on online medical Java project :
In this project online medical portal a Java project, the patients can register on the portal on a free basis. He can make use of the services after he finishes registering. The doctors also require a permanent id by the admin for finishing the registration. The id is provided by the admin after verifying the credentials. The patients can chat with the doctor on the portal which enhances the site's response.
The user has the option of changing his password when he wishes to. This ensures security and privacy on the part of the user. The user can also upload images of X-rays and scan images and also diagnostic reports. This can be viewed by the doctors who will ten guides the patient to a better understanding of his ailment.
Conclusion:
The project is an idea of the medical portal and offers scope for future enhancements. This system provides benefits to the patients. The best possible combination of digital media and human intelligence has been combined in this project. Thus, this project also gives the benefit of direct interaction with the doctors with the help of chat facility.