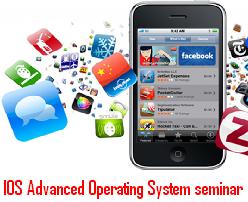 IOS Mobile Operating system Seminar Topic explains about history of operating system, Powerful foundation, New IOS 4 Features, Multitasking features, Tools used, Compatibility and Data management.
IOS operating system was introduced by Apple corporation which was one the advanced operating system which works on mobile platforms. Developers can work on developing apps for IOS by using SDK which can be downloaded for free.
IOS supports multitasking features where users can run applications on back ground for preserving battery life and performance. Online app store will provide free downloads for applications which is increasing it scope of development.
There are many online communities where users discuss on new developments; Developers can use basic coding functionalities of IOS for developing applications.
Mac OSX operating system is for apple desktops which is developed using UNIX platform integrated with GPU accelerated desktop, intuitive networking services, and system-wide optimization for multi core CPU's. Mac OS uses Cocoa frame work which can automatically modifies into native look, feel and behavior.
Related Paper Presentation:
Mac OS X Carbon Support Seminar PPT Download
download IOS The Advanced Operating System Seminar Topic paper presentation.